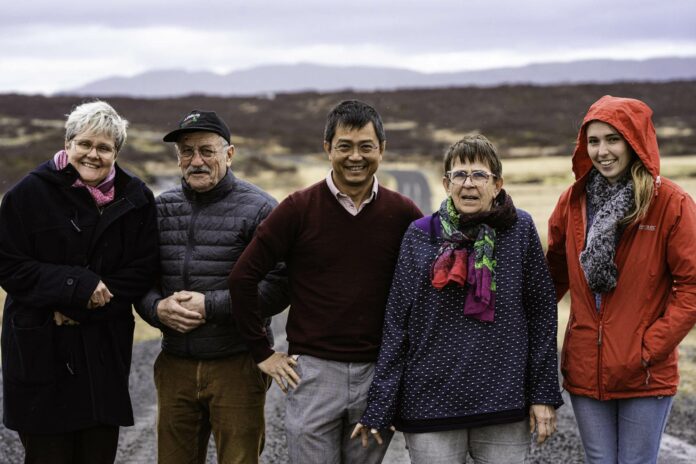 In May, our V4C team, made up of 25 project representatives, went to their Icelandic partner to experience the closing activity of the 3-year program. We went to Akureyri, a town in the north of Iceland, the functional center of Nordurland. More than half of the population of Nordurland lives in Akureyri, i.e. 20 inhabitants.
According to the intervention of a local economist, it is necessary to direct the economy of the territory around tourism. Initiatives are underway to meet this order, many constructions are underway in Akureyri at the moment: apartments for newcomers and second homes, hotels and roads will then be deployed. He also recommends the (re)construction of the city center and the creation of direct links with other countries with flights to and from Akureyri.
VMA – Verkmenntaskólinn in Akureyri
We visited VMA, a vocational secondary school, approximately 1000 students. This school has a capacity to adapt training to the needs of the territory which impressed the participants. A training course (catering: service and cooking) can be temporarily closed for 1 to 2 years, then open again. Another can be strongly encouraged to develop to respond to local orders, as we have seen with the construction industry. This flexibility and reactivity of the training is possible thanks to the intervention of teachers who are speakers, professionals, they make themselves available for the training of young people (technical courses and apprenticeship in company). The example of the construction sector also shows us that training can be temporarily encouraged without risk for the establishment thanks to a system of partial self-financing: the students build a mobile home, sell it, recover the funds for the purchase of materials for the next house.
The questioning of the study of the economic territory questioned our team. The schools do not seem to have considered the development of a tourism training for the animation of the territory. Will the great adaptability of local establishments be able to cope with the jobs of tomorrow?