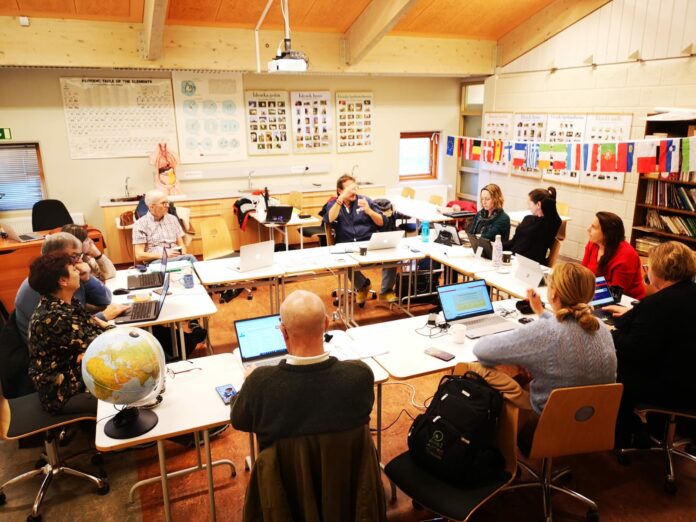 November 2022 – Akureyri (Iceland)
Initially imagined at the start of the program but postponed due to the pandemic, the first training session of the ApprEUnance program was held from November 7 to 11 at the premises of VMA, the program's Icelandic partner.
An important moment for the project and the partnership.
Indeed, beyond the "warm" welcome, this session made it possible to carry out intense joint work with all the partners.
Several objectives were pursued:
Understand the functioning of the reception structure and the vocational training system in Iceland and wonder about the possible links with the logic of "learning",
Understand the results of the surveys carried out in each partner country,
Gather the point of view of training "stakeholders" (students, trainees) to understand the learning levers,
Agree on a common definition of the concept of "learning".
From the discovery of the functioning of VMA, the study visits carried out (Visit to a TLV learning center in Simey, Visit to Höldur: automobile service company, Visit to the Laugar secondary school) the question of "learning otherwise" was clarified in the light of the experiences presented and the desire to support the learners individually.
Produced by French students, a work of synthesis of the surveys carried out in each partner country on the training systems and making it possible to discover the educational intentions of each of these systems was presented by Maryne Philippe, MASTER IF student. It made it possible to identify the similarities and differences that exist between the training systems of the partner countries. At the end, each partner was able to draw lessons from the results of their surveys.
Following this work, using the "word-café" technique and to anticipate the investigations to be carried out soon in each partner country, learners were asked to explain their ways of learning and to describe the conditions favorable to learning and this at the school or training center but also in the company and in the social environment. An important exercise to give voice to users (learners) and to compare the pedagogical intentions of the training systems as they are thought out and the experiences of the learners.
Finally, with the intervention of A. Chauvet, expert in support issues and following group research work, the partners were able to define their vision of the concept of learning that structures the project.
A session very rich in discoveries and learning in connection with the "ApprEUnance" project.